GGP400/700/80DPL-E Grout/Inject Station Price
Product Description:
GGP400/700/80DPL-E grout station is a combination of mixer, agitator and grout pump in one base frame. It is mainly used to be made bentonite slurry, cement slurry, etc., in the application highway, railway, hydropower, construction, mining and other ground and underground construction.
High speed vortex mixer ensures mix quickly and evenly. Water, cement or bentonite is quickly mixed into homogeneous slurry. Then the mixed slurry was delivered to the agitator. Grout pump injects from the mixing drum (storage tank). This ensures a continuous mixing and grouting operations. What's more, the double-plunger pump together with the pressure-holding system is used, so that the pump automatically stops and maintains the very little pressure impulse (1-4bar with 50bar grouting pressure) to ensure that the grouting hole is completely filled. The grouting plant is hydraulic drive with electric motor. Grouting pressure and displacement is adjustable. Compact size and it is easy to operate. It also takes up a small space.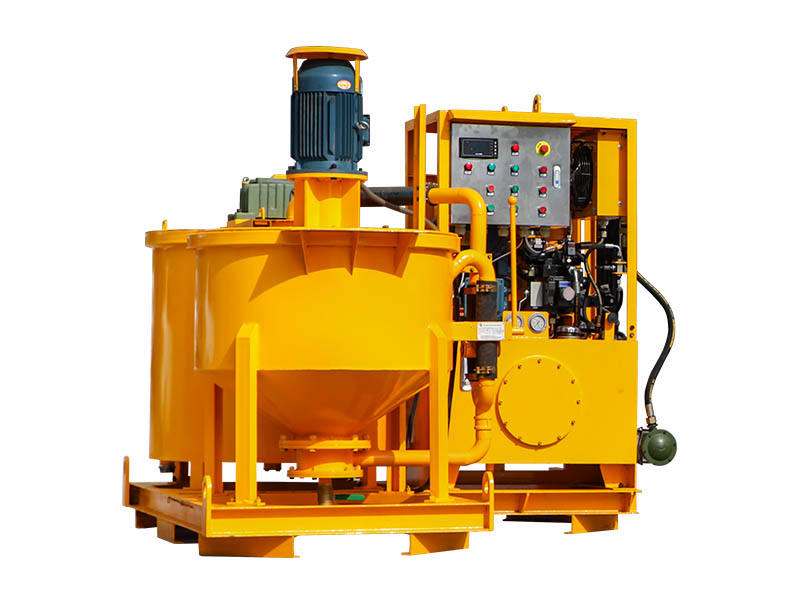 Product Feature:
1. High-speed colloidal grout mixer
2. With the liquid level of the mixer tank
3. Double plunger pump
4. Vertical type pump with compact size
5. Hydraulic drive (safely releasing pressure when pumping block)
6. Hydraulic system with high temperature warning and protection system
7. Pressure holding system
8. Low flow pressure surge system
9. Air cooler and water cooler (suitable for working in tropical and sub-hot areas)
10. Up to 5mm particle size
Product Specification:
Description

Data

Grout Station model

GGP400/700/80DPL-E

Dimensions

2350*2100*1830mm

Weight

1530kg

Mixer

Capacity

400L

Recycling discharge

1100L/min

Suitable water/cement ratio

≥0.5:1

Motor power

7.5Kw

Rated Rev.

1450rpm

Agitator

Capacity

700L

Motor model

1.5Kw

Rated Rev.

36rpm

Pump(vertical compact hydraulic grout pump)

Output/pressure

Low pressure: 0-80L/min, 0-25bar

High pressure: 0-58L/min, 0-40bar

Power

11Kw

We could also customize according to your demands.